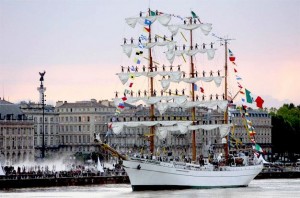 After a break of 13 years, Helsinki has hosted major international sailing fleet arriving at the port today (Wednesday, July 17).
The Tall Ships Races Baltic stands roughly every four years, and the departure has been given this year in Aarhus, Denmark for an arrival in Helsinki, Finland. Helsinki fleet then move to Riga in Latvia and Szczecin in Poland.
Weather conditions in the Baltic Sea were exceptional during the first leg of the race from Aarhus, allowing ships to modern rig to benefit from strong winds. The state of competition rules that the ship sails must be hauled off and the engine for the whole journey from start to finish.
Christer Samuelsson, chairman of the event said "Helsinki is a beautiful city and the part for the fleet and all the trainees, we are delighted to be welcomed so warmly in the pearl of the Baltic Sea."
The price of the first round of the competition will be presented at an official award ceremony after the parade crews to 1600, Thursday, July 18, on the main stage on the Hietalahti market.
In addition to the ships, this family event hosts the best Finnish artists, and a program of cultural activities for children and youth, as well as restaurants and stalls selling every day from 10am to 10am.
Visitors can climb aboard one of the class A and B ships between Wednesday and Friday.